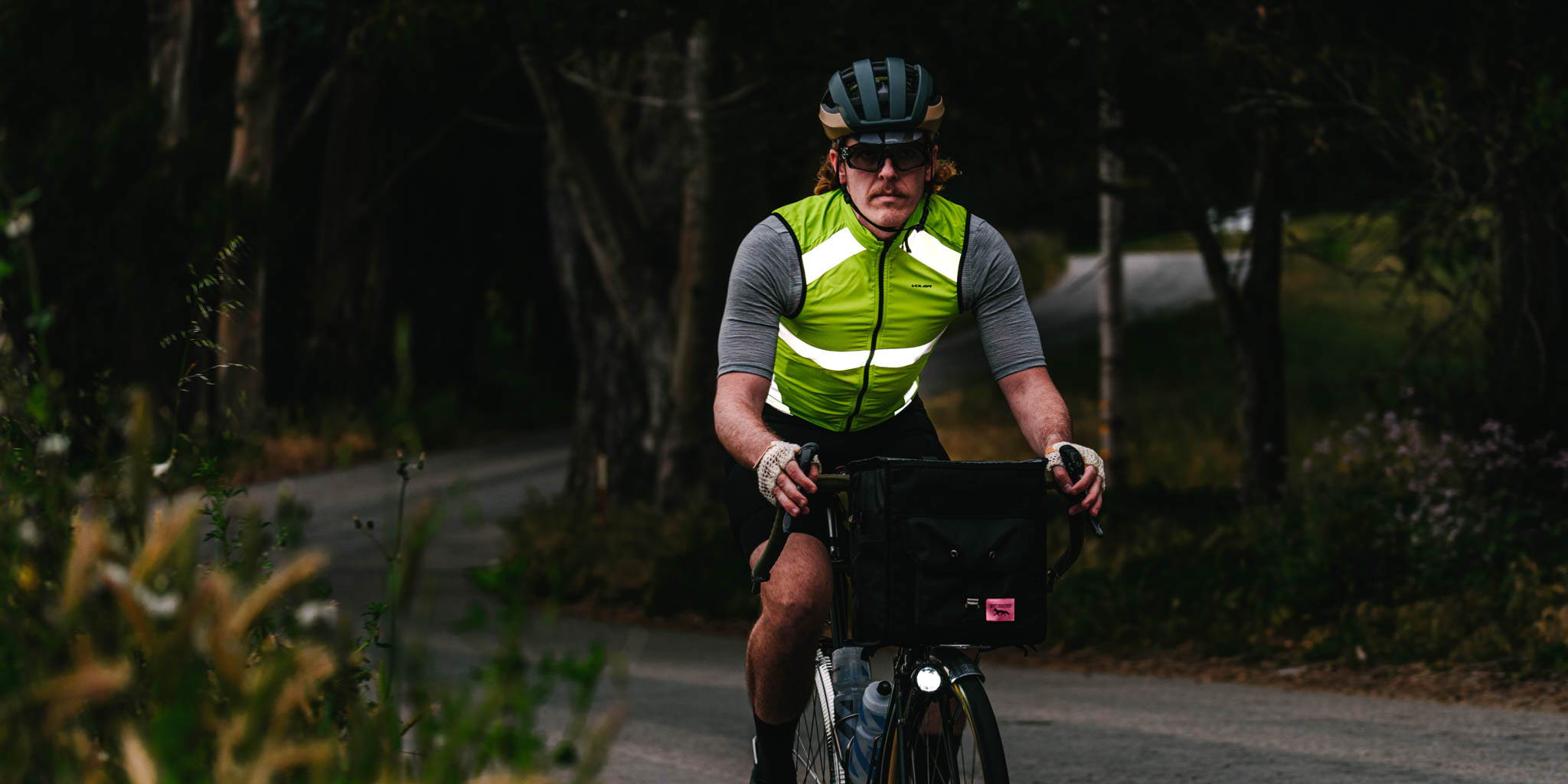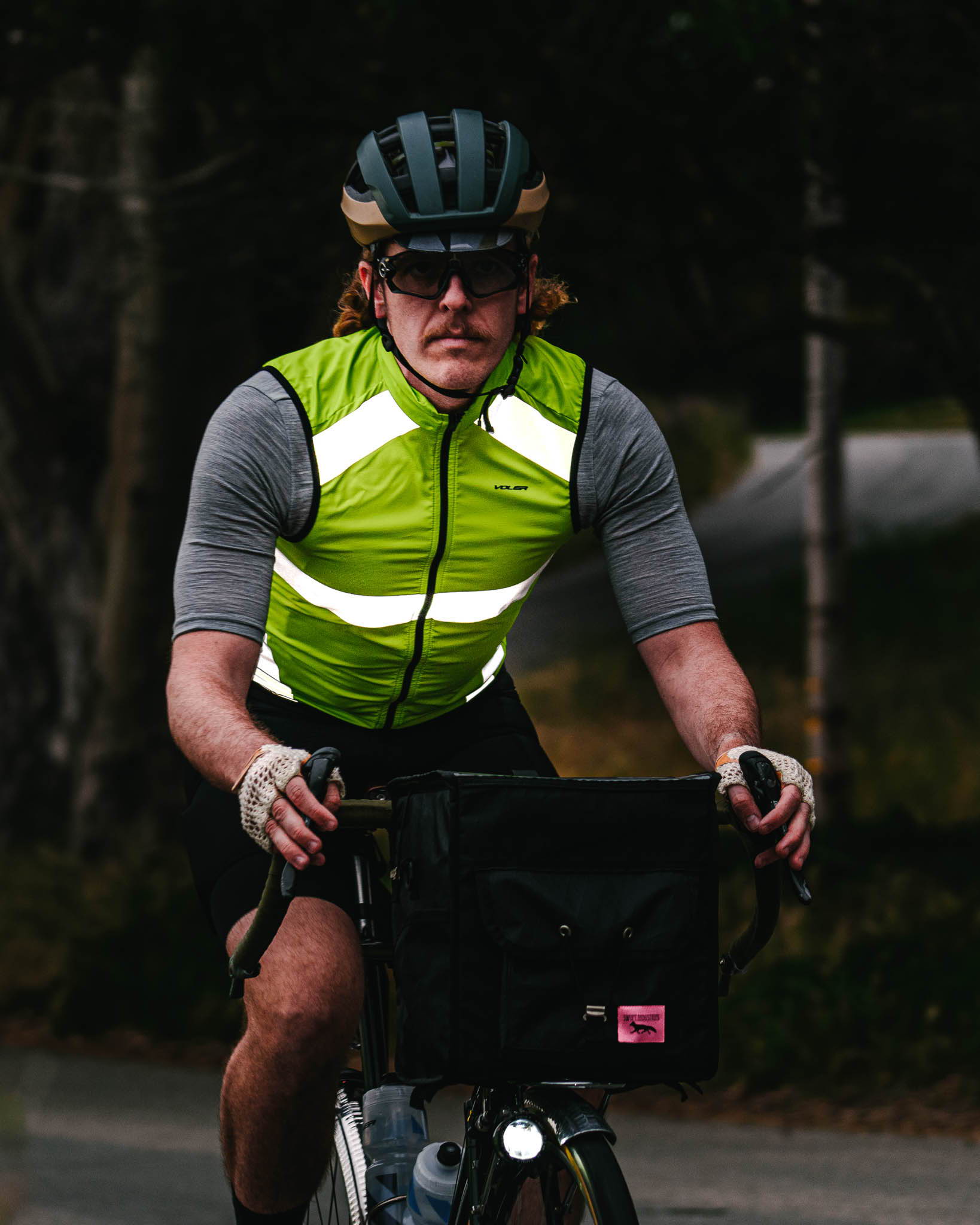 M. REFLECTIVE WIND VEST
SKU: 1010M46NOR
FREE SHIPPING $75+ | EASY 90-DAY RETURNS
Sharing the same fit and features as our standard Wind Vest, the Reflective Wind Vest has an added 140+ sq inches of reflectivity creating the ultimate randonneuring companion that combines wind protection, exceptional reflectivity, and purpose-driven design.


Incorporating reflectivity inspired by the famous Paris-Brest-Paris event, the Reflective Wind Vest is designed to meet the unique needs of the randonneur. 140+ sq inches of reflective material has been strategically placed on the vest to capture light from any angle illuminating your presence on the road. This critical feature enhances your safety during low-light conditions and increases your visibility to motorists, ensuring you can focus on the journey ahead with confidence. Its tailored fit reduces excess fabric, minimizing wind resistance and maintaining an aerodynamic profile. Along with three rear pockets providing ample storage for fuel and layers, the Reflective Wind Vest is the ultimate randonneuring companion that combines wind protection, exceptional reflectivity, and purpose-driven design.
Enhanced Reflectivity: Over 140 + square inches of 2'' wide reflective tape with visibility from the front, side, and back of the garment.
Weather Resistant Treated: Durable Water Repellent (DWR) coated chest, collar, and shoulders improve wind and moisture resistance.
Three Deep Expandable Rear Pockets: Extra storage and easy access when foul weather reigns.
Flash Reflective Binding: Reflective trim along top of pockets provides extra blindside visibility.
Double Pull YKK Zipper: tough, durable and allows for dual directional zipping and on the fly airflow and temperature control.
Minimalist Design: Packs down to fist-size and slips into a jersey pocket.
Repellent Front Panels: Wind blocking Stratus front facing panels woven from dense micro polyester yarns block wind and a DWR coating provides added water resistance.
Stretchy Back & Sides: Lightweight, breathable and extra stretchy Alito Mesh back and side panels keep the vest form fitting and flapless.
USA-Made: Hand sewn right here on the West Coast of the USA.   
Sustainable Fabrics: The bluesign® certified Stratus fabric and Okeo-Tex Standard 100 certified Alito Mesh is sustainably produced with low environmental impact and free of harmful chemicals.
Race Fit: Light stretch compression back, and precision tailoring make the vest adapt and stretch to bodies of different shapes and sizes for reduced flapping and better protection.
Sleeveless Design: A classic gilet, made from modern, technical fabrics with our expert tailoring twists.
Race Patterning: A snug patterning, tailored for a trim, performance driven fit.