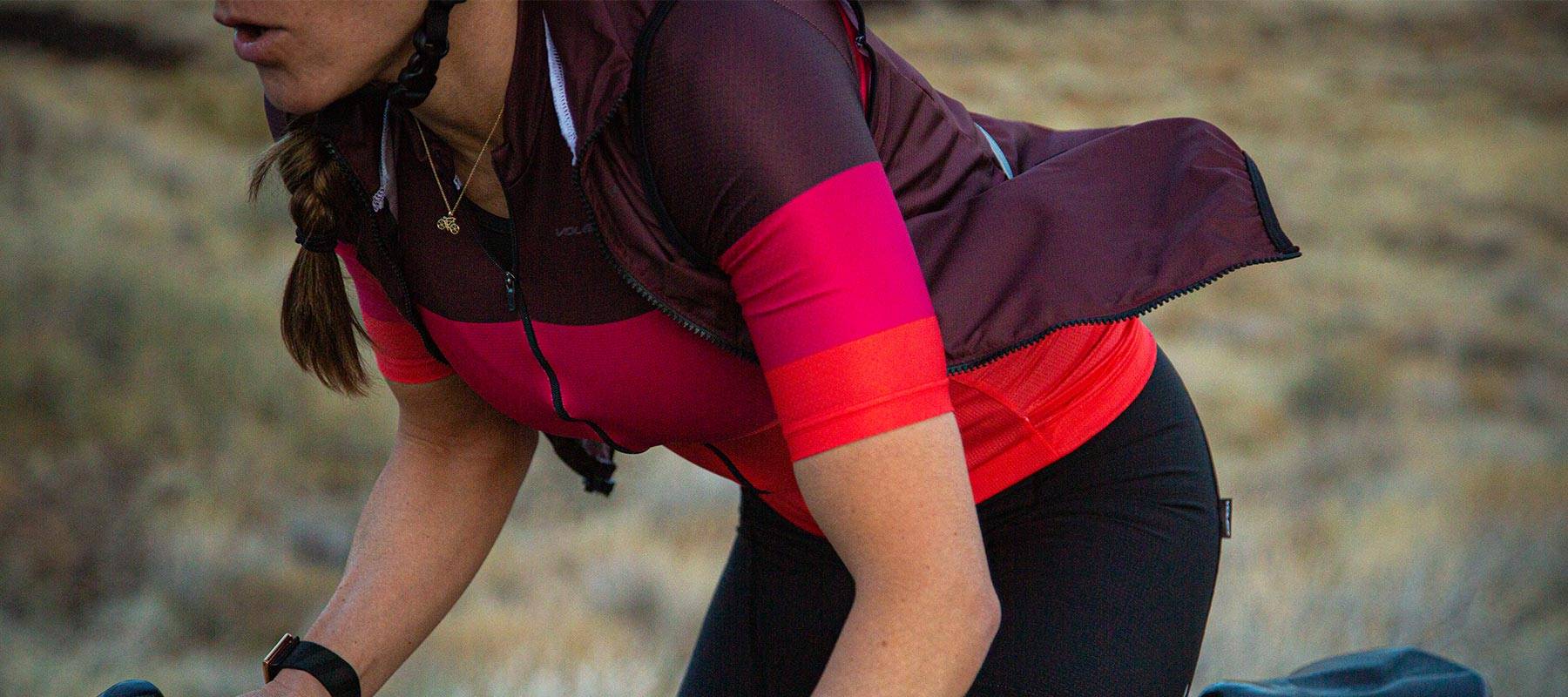 W'S VELOCITY JERSEY - BLOCKS
SKU: 1020L37ELD
FREE SHIPPING $75+ | EASY 90-DAY RETURNS
The ultimate high-performance cycling jersey with a women's-specific contoured aero fit, pro-cut sleeves and three deep pockets, built from a blend of compressive, technical fabrics.


Precision tailored for speed. Modernly styled for everyday rides. Meticulously designed for uncompromising functionality and fit. Combining sleek patterns with a blend of stretchy, compressive fabrics, the Velocity Jersey fits like a second skin, molding to your body for an exceptional, women's-specific fit. Three deep rear pockets provide storage for all day training, while the adaptive stretch secures whatever you stow without swaying or sagging.
Technical Fabric Blend: Aero on the arms and shoulders, wicking on the chest, stretchy mesh on the sides and back.
Sun Protection: UPF 50+ on the full arms and shoulders with UPF 30+ front and back.
Four Rear Pockets: Three deep rear pockets with an added fourth zippered pocket to secure a key, cards, or cash.
YKK Locking Zipper: A lightweight design that eliminates zipper bulge while riding and operates with one hand.
Reflective Accents: A little extra flash on the rear pocket binding.  
Silicone Waist Gripper: Specially patterned for a secure fit that prevents jersey creep.
Aero Arms: Specially milled Spectrum fabric with aerodynamic texture and UPF 50+ protection.
Moisture Management: Fast wicking, ultra breathable Nova fabric on chest for optimal cooling and airflow. 
Stretchy Back & Sides: Lightweight, breathable and extra stretchy Alito mesh back and side panels with UPF 30 protection.
USA-Made: Hand sewn right here on the West Coast of the USA. 
Sustainably Made: The milled Nova and Alito fabrics are certified as free of harmful chemicals through Okeo-Tex Standard 100 certifications.
Women's Aero Fit: Light stretch compression, and precision tailoring make the jersey contour to each curve and wear like a second skin.  
Extended Sleeves: Sized to sit contoured around the lower bicep.
Aero Patterning: Our tightest patterning, tailored for an ultra-trim, high-performance fit for women.
Sizing:If you are new to cycling, please be aware that cycling apparel is intended to fit tighter than most other athletic apparel. Read More