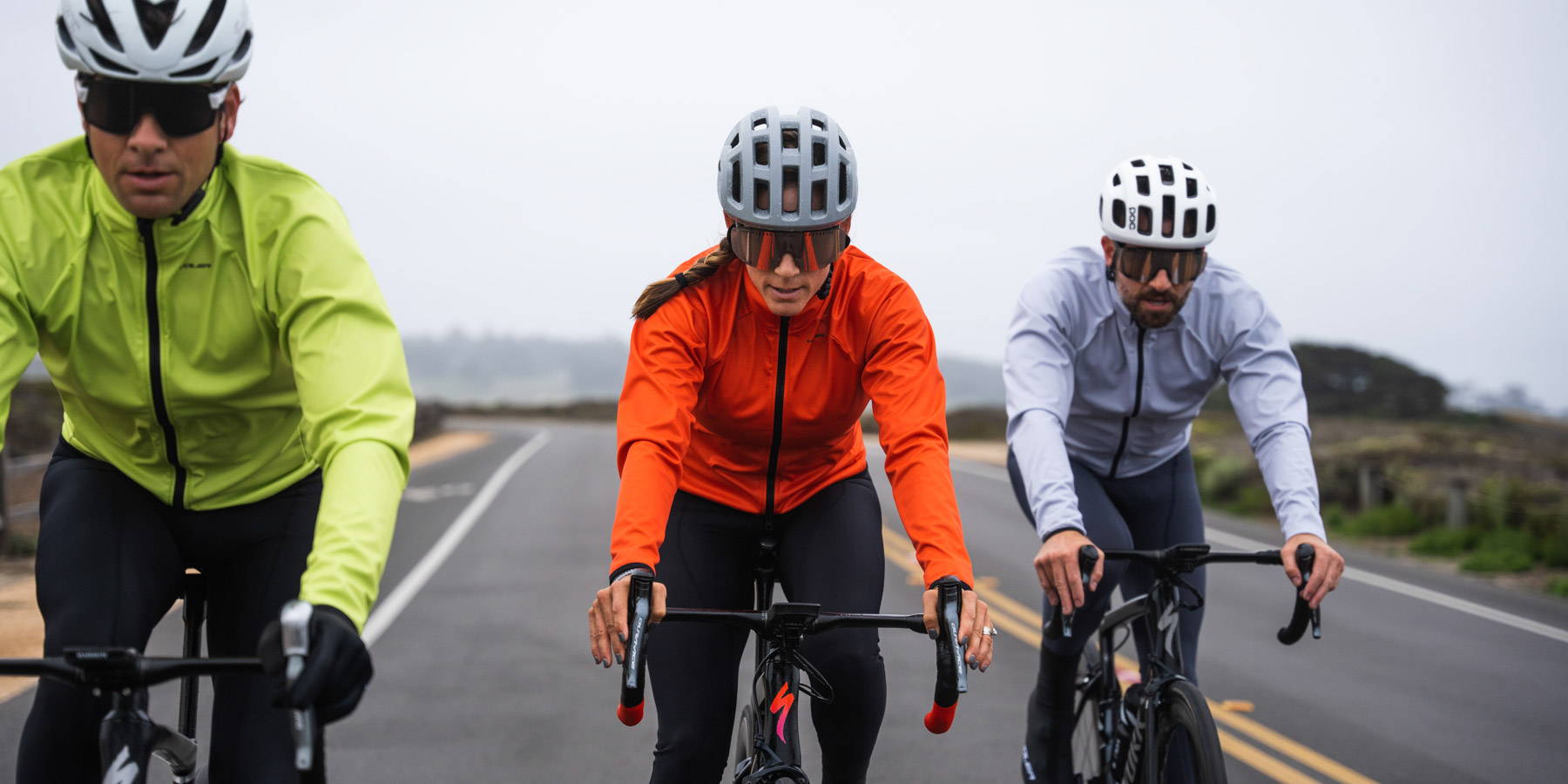 W. THERMAL JACKET
SKU: 1020L98CTN
FREE SHIPPING $75+ | EASY 90-DAY RETURNS
A wind and water resistant DWR coated thermal jacket, cut specifically for women, with stretchy fleece panels for an adaptive fit and extended neck and back coverage for colder rides.

The best fit for women who crave cold weather riding, our Thermal Jacket combines DWR wind and water resistant technology with stretchy thermal fabrics to keep a trim fit regardless of body type or layering. It's more than just a little extra warmth and protection though–extended cuts on key panels keep the drafts off your neck and wrists while blocking road spray from the rear wheel. Ain't nothing like a soggy cold chamois to send you scurrying back to the couch! No, this is a full coverage technical jacket that'll inspire getting out for those extra miles, even as winter closes in.
DWR-finished: Durable Water Resistance finished chest, back, and arm panels repel wind and weather.
Three Deep Pockets: Ample back storage with built in stretch for securing extra essentials in adverse conditions.
Flash Reflective Binding: Reflective trim above pockets provides extra blindside visibility.
Double Pull YKK Zipper: A tough, durable zipper that opens from top or bottom for on the fly airflow and temperature control.
Anti-Draft Flap: Full length fleece strip behind the zipper prevents unwanted airflow and chill.  
Extended Back Panel: More protection against wheel spray and cold drafts.
Soft Shell Protection: Wind blocking and water resistant Denali LT front, back, and arm panels keep heat in and elements out.
Fleece Lined Panels: Yukon Thermal sides add warmth and stretch for a more adaptive fit.
USA-Made: Hand sewn right here on the West Coast of the USA.
Fabric Content:
Denali LT: 89% Polyester / 11% PU
Yukon Thermal: 87% Polyester / 13% Elastane
Fabric Weight:
Denali: 225 gsm
Yukon: 300 gsm
Adaptive Layering Fit: Stretchy side panels keep the fit flapless even with varying layers underneath.  
Full Length Sleeves: Full arm coverage maximizes warmth on cold rides.
Glove Friendly Cuffs: Wrist opening stretches for a draftless fit with or without gloves.
Extended Collar: More coverage up the neck prevents heat loss.
90-Day Satisfaction Guarantee: Buy with confidence. Return without hassle. Period.